I Went on a Carnival Cruise...and Enjoyed Myself!
Carnival Cruise Line makes no secret about its brand. They aggressively market themselves as the "fun ships" and sail a number of short weekend cruises perfect for locals looking for a chance to cut loose.
By contrast, I'm a bit of an old woman. I don't really drink very often, I go to bed really early, I enjoy peace and quiet, and I prefer to observe the party rather than be in the middle of it. It doesn't bother me when other people choose to live it up a bit, so long as I can still get a good night's sleep!
Why I Chose Carnival
Carnival is based in Florida, I live about two hours from a couple of different ports, and January/February are typically full of good deals for cruises – particularly at the (hopefully) tail end of a global pandemic. Additionally, I am fully vaccinated & boosted, have a valid passport, and a relatively flexible work environment that allowed me to take a couple of days off.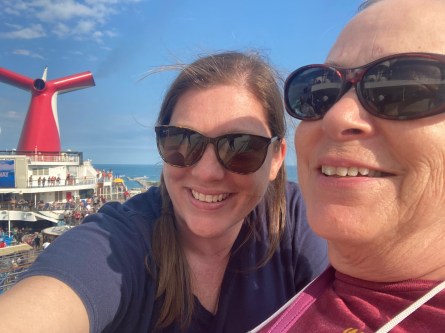 All of these factors led me to book a short three-night sailing on the Carnival Liberty out of Port Canaveral in mid-February, with one stop in Nassau and a day at sea. The rate I booked was so good that I thought that even if I didn't mesh well with the Carnival product, I could at least enjoy a couple of days of sunshine and relaxation. Plus, I'm always up for the experience of having tried something new. I admit to having been a bit nervous about how it would go!
Getting Ready to Cruise
I booked the cruise just a few weeks before sailing, and there wasn't really much for me to do prior to our cruise. Most cruise lines now allow you to start the check-in process a month or two prior to sailing, which means you can input your travel information, verify your travel documents, and select a port arrival time prior to the day you set sail. This can really speed up the embarkation process if you're organized.
For now, Carnival is requiring a pre-sailing covid test as well as proof of vaccination for all cruisers ages 5 and up. Unlike some cruise lines, they do not require you to test at the port. I used one of the eMed proctored Covid tests to complete this requirement the day before sailing. We finished the online check-in process prior to arriving at the port.
I also chose to order some bottled water to be delivered to our stateroom, and reserved dinner at the Steakhouse on board. We chose not to reserve any port excursions since we were unsure about the weather and what we wanted to do while in Nassau.
Embarkation
We selected a port arrival time of 10:30 am and pulled up to Terminal 3 at Port Canaveral around 10:25 am. Unloading was quick, as we each had only one suitcase. We handed our bags to the porters, said goodbye to our ride, and went inside.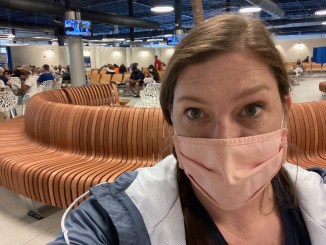 The new Carnival terminal at Port Canaveral is pretty nice. There is plenty of seating, with outlets and USB ports scattered around. There are vending machines and restrooms, but no other place to get a snack or a drink. Check-in was very quick. We had printed copies of our test results, and a quick glance at those along with our boarding passes and we were done with check-in and ready to sail.
Since check-in took only a few minutes, we waited a little while before the ship was cleared to start boarding. About 11:00 am, the first boarding groups were called, and our number was called within about 15 minutes.
---
First Impressions of the Carnival Liberty
Two things surprised me about the Carnival Liberty and the design of the ship. First, the ship is much darker and more low-ceilinged than I expected. The color palette used around the ship was jewel tones and dark wood, and the majority of the ship's public spaces seemed to face inward away from the ocean. Second, the decor of the ship was a lot more ornate than I was expecting. The ship has a not-so-subtle Venetian Carnivale theme, with woodcarvings of masks and jesters throughout the public areas. The main theatre had two large statues fitting the theme, and there were large abstract glass fixtures in a few of the lobbies. The main dining room had a maroon-and-shiny-gold color scheme.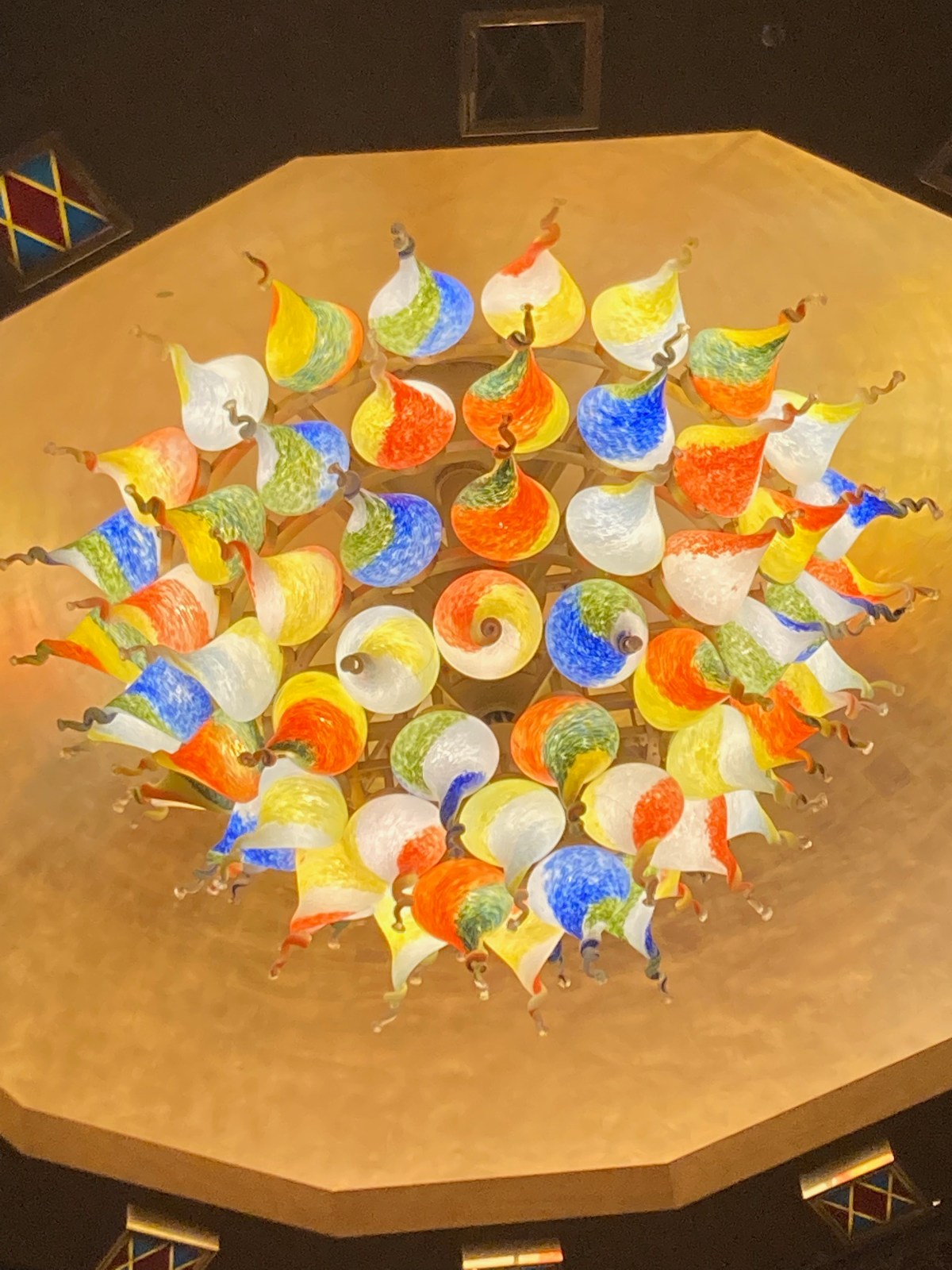 I prefer a more sleek or minimalist style, so the decor did not particularly appeal to me. Further, I prefer ships that use the ocean as a focal point instead of focusing the guests inward. Additionally, the bathrooms were weirdly hard to find. However, the ship was clean and generally appeared to be well-maintained, although she is starting to show some signs of age. The ship first sailed in 2005, so this is not terribly surprising.
There are several positive things about Liberty. I really liked the setup of the pool deck. The lounge chairs are arranged in a sort of stadium-seating which means that you have a pretty good view of the area from anywhere you sit. There are multiple hot tubs on the pool deck as well. I also appreciated that both the main theatre and the comedy club had seating with small tables for drinks.
Food & Drink Onboard
Food and drink are a central part of the cruise experience, and I was pleasantly surprised at both the quality and variety. We ate in the main dining room, the Lido buffet, the Blue Iguana Cantina, Guy's Burgers and the Steakhouse. We also ordered coffee and pastries from room service. All of these options are included in your cruise fare, with the exception of the Steakhouse. There is a $38 per person upcharge for the Steakhouse.
Dinner in the main dining room was decent. The food came out hot, and there were plenty of things on the menu that appealed to me. Breakfast in the main dining room was less-than-stellar; we waited a long time for our food, and my hashbrowns came out still semi-frozen. The Lido buffet had plenty of different options including multiple desserts; everything I ate was decent.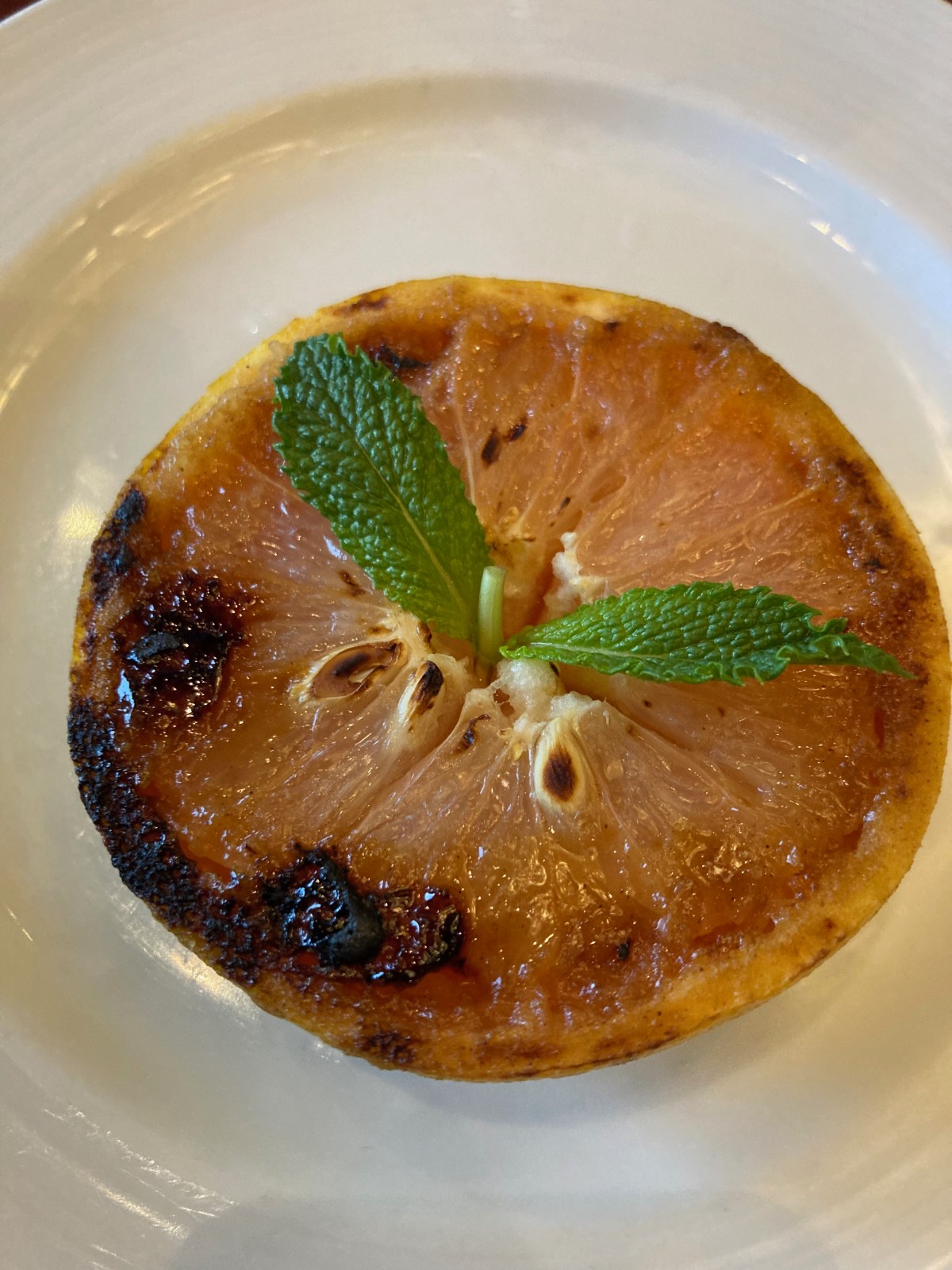 I particularly enjoyed the tacos from Blue Iguana Cantina; I especially liked that the tortillas were pressed fresh for each order. Guy's Burgers are extremely tasty and stand out from the rest of the options.
The Steakhouse was definitely worth the upgrade, although it was "just good" rather than "stellar." I enjoyed a well-cooked steak, and my mom's lobster tail was huge. We enjoyed the wine pairings with dinner and felt they were a good value at $18 per person.
I'm not really a big drinker but did partake in a couple of adult beverages on the ship. Prices were reasonable, at about $10 per drink after tax and gratuity. My mom even found an IPA beer that she liked.
One thing I was nervous about was coffee. I am a bit of a coffee snob, and coffee on cruises can be watery and gross. I was pleasantly surprised by the quality of the complimentary coffee, both on the buffet and the coffee we ordered via room service.
Things to Do
Ultimately, we decided to stay on the ship in Nassau. Beautiful weather that day allowed us to take full advantage of the outdoor activities on the ship. We played ping pong, a bit of shuffleboard, walked the deck, and lounged in chairs in the adults-only Serenity section. We also got in the hot tub for a while, and had it to ourselves.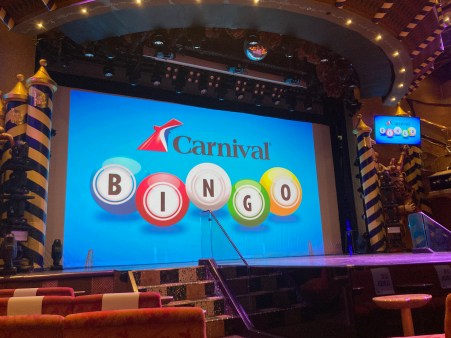 One evening, we watched the comedian perform. The comedian did not impress me with his set, and I found it a bit offensive even though this was a family-friendly show. Another day we went to the "Love & Marriage" show. The show is set up a bit like the newlywed game, where couples answer questions about each other and compare their answers. The show is a bit raunchy, but enjoyable; the cruise director did a great job keeping it very light-hearted and semi-appropriate.
We also played Bingo and trivia; both are offered several times throughout the sailing. While we didn't win anything, we did have a good time playing. The best entertainment on the ship, however, was an acoustic guitar player/singer called Paris Adams. She's a British country singer and did covers of Whitney Houston, Dolly Parton, Fleetwood Mac, Ed Sheeran, and several other popular artists. She was so good that we made it a point to catch her set twice.
Our Stateroom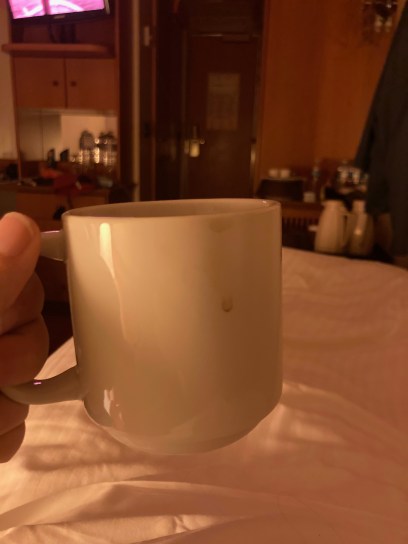 We stayed in stateroom 7237, which is a standard inside stateroom. Deck 7 has only staterooms both above and below, making it a good location for quiet rooms. The cabin was fairly standard, with two twin beds, plenty of storage, a small desk/vanity, and a bathroom with sink, toilet and shower. There is also a small TV as well as a minifridge. The beds are comfortable, with decent linens and nice duvets. The shower has good water pressure and is decently-sized for a cruise ship. The main problem with the room is that there was only ONE outlet for the entire cabin. I knew that there would not be many, but I was expecting more than one place to plug in devices.
Staying in an inside stateroom made me a little nervous before we sailed. However, any reservations that I had about it disappeared after spending a few minutes in the room. There was a TV channel that we put on showing the view from the bridge if we needed a peek outside, the room was quiet, and I felt the rocking of the ship less in an inside than I did when we had a window on a different cruise.
I would book an inside stateroom again; we didn't spend much time in it anyway!
Final Thoughts
In all honesty, I was surprised by how much I enjoyed the Carnival experience. Carnival definitely has the reputation of being a "party" cruise line, and although there were definitely people enjoying alcohol we never felt out of place or unwelcome. The staff is attentive and eager to please. We found plenty of things to do. There was no problem finding an open deck chair or a place to find some quiet.
Sure, the ship shows some signs of age – rust in a few places, and outdated decor. However, that did not deter me from having a good time. Older kids would have a good time on the ship, but very young children might not find much to do.
All in all, I would sail Carnival again. As a brand, Carnival offers a price point that is attractive to those who want to keep overall cost down, or just want to dip their toe into cruising to see if it is something they like.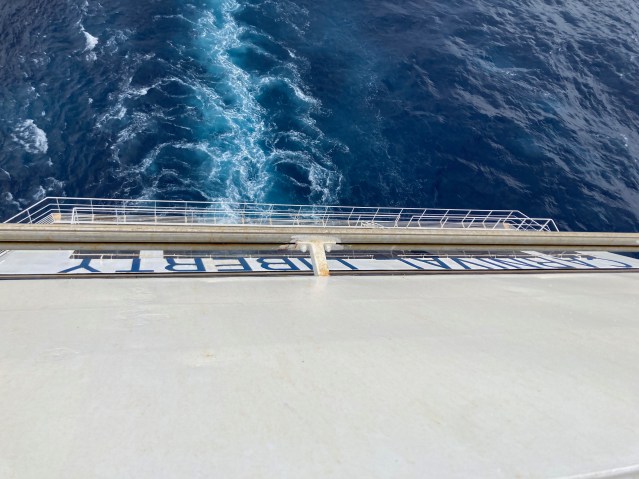 If you're ready to give Carnival a try, please contact me! I'd be happy to help and can throw in a few extras to make your trip even more amazing!