Anatomy of a Cruise's Daily Activity Planner
Many people know that a cruise vacation can provide a lot of value for your dollar: lodging, dining, transportation, and entertainment are all built into the price of your cruise fare. Cruise lines do a great job of promoting the destinations they visit, the shore excursions, and the amenities on the ship. But when it comes down to the daily activities on board, it can be a bit difficult to find specific information about what sorts of things are offered. In this blog post, we'll deconstruct a cruise's daily planner to help you know what you can expect each day on board.
First Things First: App or Paper?
Up until a few years ago, cruise guests could expect to be handed a paper copy of the cruise line's daily planner upon boarding; each night when you returned to your room after dinner, you'd find a copy of the next day's planner sitting on your stateroom bed. These days, however, most cruise lines try to steer guests to their phone app to find the same information.
The apps can be helpful, allowing you to save activities that you're interested it, set reminders, and look ahead to the offerings several days in advance. Even if you haven't purchased the cruise's internet package, you should be able to access the app using the ship wifi at no charge. Don't be alarmed if you're accessing the app several weeks in advance and you don't see any activities; those will start to populate a few days prior to your sailing.
All cruise line apps are not created equal, however! Some (like Carnival's and Royal Caribbean's) are easy to navigate and find what you're looking for; others (like Princess's) are awful and difficult to use. I suggest downloading the app well prior to your sailing to get familiar with it - you'll use it to check-in anyway, so that gives you the chance to poke around.
Ease-of-use aside, some people just prefer a hard copy. It might be easier to read, or maybe you just don't want to be on your phone all day. If your cruise line is not giving you the option to get your daily planner delivered to your room, you can often pick up a copy each day from Guest Services.
The Daily Planner
For the purposes of this blog, I've been using "daily planner" as standard language; each cruise line calls this document something different. For example, on Disney this is known as the Navigator; on Princess, it's called the Patter. Although they all look a bit different, they each contain similar information: daily activities, dining hours, important information/reminders, and port information.
We're going to look at each section in detail, but here is a quick look at the whole document for one day: Princess Patter, May 27, 2022
Daily Activities
If you want to know when to play bingo, what time the poolside movie starts, where to go to listen to karaoke, or when to find specials in the onboard shops, this is the section of the planner you'll want to zoom in on. Early on in the day, you'll normally see things like trivia, sports tournaments, and family-friendly movies. Later in the day, you'll start to see more musical acts, bingo, and trivia. The majority of the activities listed don't require any reservations: just show up! Popular activities may fill up, so if there's something you really want to see be sure to be on time.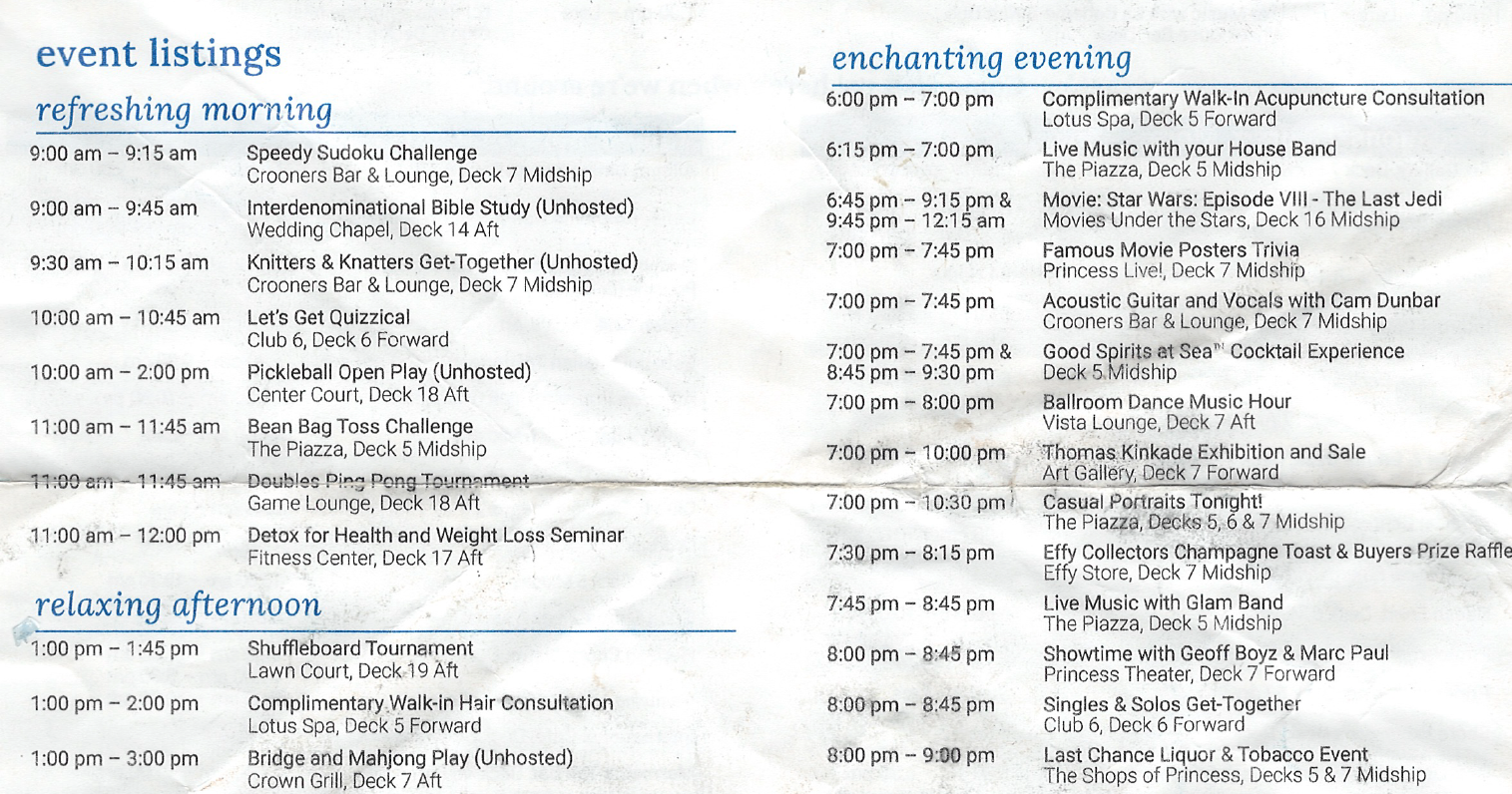 Dining & Shopping Information
Especially on port days, not all of the dining venues onboard will be open for all meals. The dining section of the planner will list the opening & closing times for all the bars & lounges on the ship. If anything special is going on in one of the dining venues, that may be highlighted as well - look for "themes" or "specials."
You'll also find the opening hours of the shops in this section. The majority of ports restrict cruises from allowing their shops to be open while the ship is in port, so you may need to plan your shopping for evening hours. Also, there are sometimes delays in sailaway time due to a late-arriving excursion; you may see the opening time of a particular shop listed as "sailing" rather than an exact hour.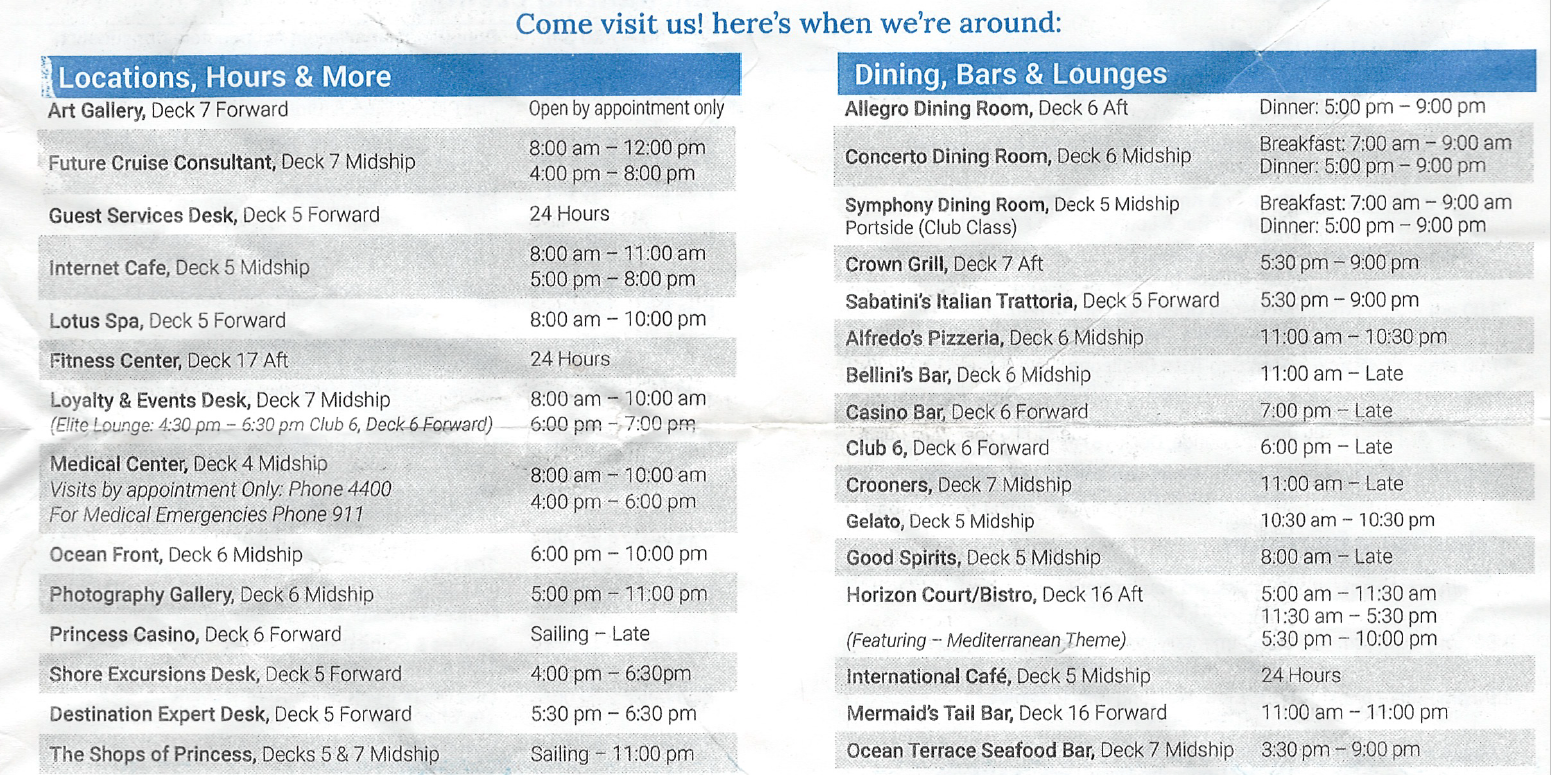 Port Information
If you're looking at your daily planner on a port day, there is some really important information listed! First, you'll see information about what time the ship arrives in port as well as what time the ship departs. Make note of the departure time - or better yet, bring the daily planner ashore with you. You definitely want to make plans to arrive back on the ship before the departure time.

The other information about the port that you can usually find on the daily planner is shuttle/transportation info. If you haven't booked one of your ship's shore excursions and are instead planning to explore alone, the shuttle info will give you an option for getting into town from the port. Many ports are a ways from the center of town, and some do not allow foot passengers or taxis to come into the port area. The shuttles usually come with a small cost, payable in cash upon arrival.

Finally, some daily planners will have the ship's agent information listed. This is important info to make note of - if you are ashore and realize you're going to be late getting back, you'll need to call the ship's agent to let them know the situation. Similarly, if you miss the ship, your first call should be to the ship's agent - so this is a very important contact to have! It changes in every port, so don't assume that yesterday's contact information is still applicable. If the ship's agent is not listed on your daily planner, check the app, signs near the gangway, or even your stateroom TV for information to bring along with you.

Important Announcements & Information
Finally, your daily cruise planner may also have special announcements or information that you may need for your cruise. General information about shipboard accounts, show changes, disembarkation information, and other items have been known to make an appearance.

Personally, I really like to look through the paper planner if possible. One of my favorite things to do in the evening before going to bed is to look through the activities for the following day and pick out what I'd like to do. I always stick the planner in my pocket or daypack for the day, for easy reference to the restaurant hours and what's going on around the ship.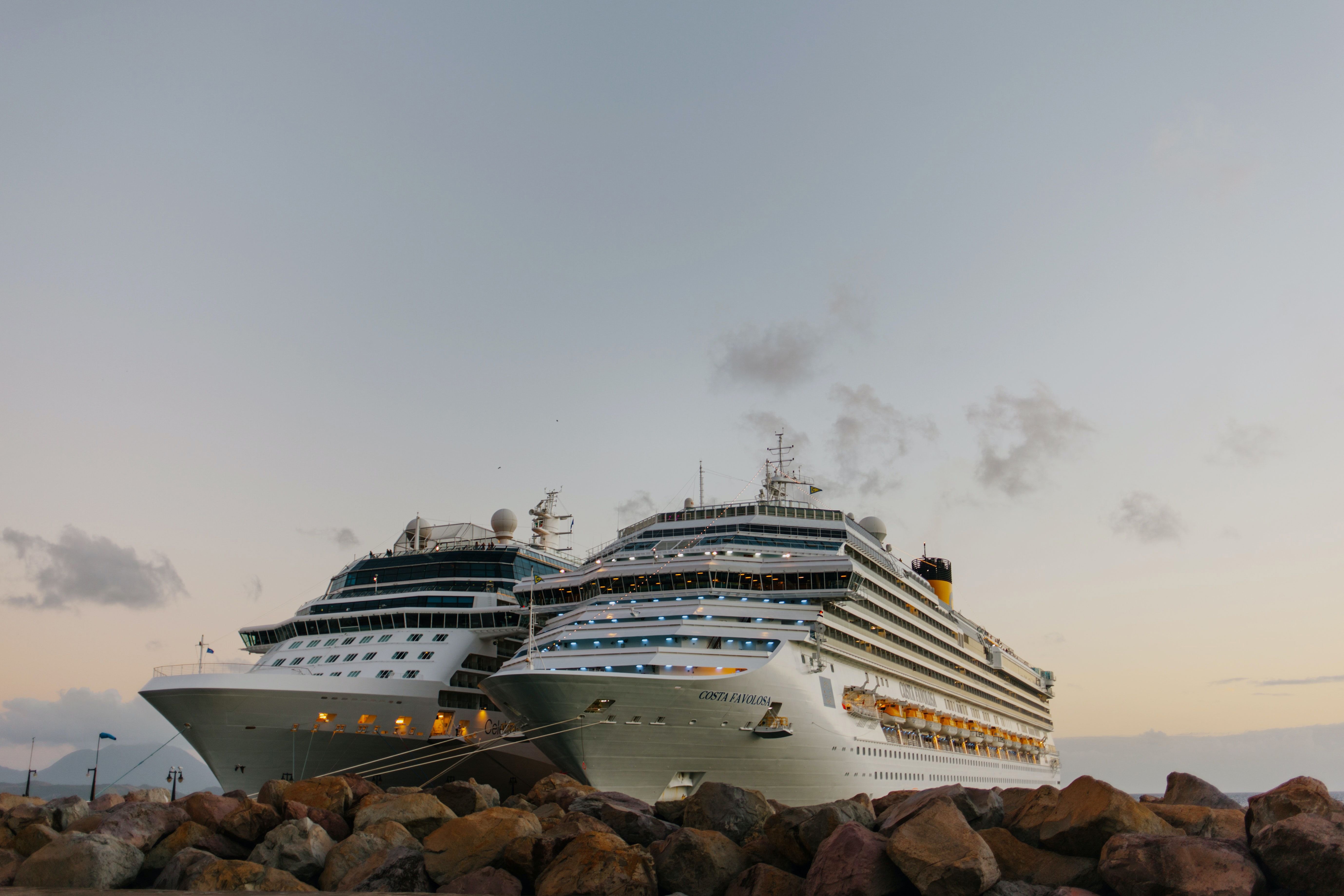 ---
How about you? How do you like to plan your days on a cruise? Let me know in the comments!